BlueM References
Jump to navigation
Jump to search
Publications
The following publications refer to BlueM, more publications are listed here: https://www.bluemodel.org/documentation/#doc-publications
Presentations
Papers
BlueM - a free software package for integrated river basin management[1] (2009)
Basin-wide integrated modelling via OpenMI considering multiple urban catchments[4] (2009)
Theses
Projects
BlueM has been used in the following projects:
RIMAX33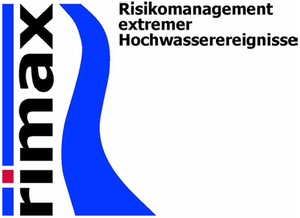 Im Rahmen der BMBF-Fördermaßnahme RIMAX (Risikomanagement extremer Hochwasserereignisse) wurde am ihwb und am Institut für Wasserbau und Technische Hydromechanik der TU Dresden gemeinschaftlich das Projekt "Erhöhung der Bauwerkssicherheit und Reduktion des Hochwasserrisikos im Unterlauf durch optimierte Speicher- und Poldersteuerung unter Berücksichtigung ökologischer Belange" (RIMAX33) bearbeitet.
Hierbei wurde BlueM.Sim für die Niederschlags-Abfluss-Modellierung und die Talsperrensimulation verwendet, BlueM.Opt kam für die Optimierung von Betriebsregeln zum Einsatz.
Immissions-Leitfaden
Goal of the project is the development of a simulation based method for the analysis and planning of immission oriented verification. Building on developments of the Hessian waste water discharge model SMUSI 5.0 the verification is extended to rural catchment and water body elements (Extended waste water discharge model). Because this extended model considers outflow and storage processes of urban system elements in detail, using this model enables a better qualified identification of impacts in the water bodies and allows for comparative planning of measures. In this process there is no need for further data collection compared to the existing guideline.
Literature
↑ 1.0 1.1 Bach, M. et al. (2009): BlueM - a free software package for integrated river basin management . In Tag der Hydrologie 2009 - Hydrologische Systeme im Wandel. Forum für Hydrologie und Wasserbewirtschaftung. Kiel. (in Print)
↑ Muschalla, D., Froehlich, F., Heusch, S., Hübner, C., Kerber, D., Reußner, F. and Ostrowski, M. (2009): BlueM.Opt - a generic framework for simulation based optimization - International Stormwater and Urban Water Systems Modeling Conference, Toronto, Canada, February 19, 2009,
↑ Froehlich, F. & Hübner, C. (2009): Kopplung von Simulation und Optimierung - Eine Vorstellung von BlueM.Opt , 1. Darmstädter Ingenieurkongress - Bau und Umwelt, 14.-15.09.2009, Darmstadt
↑ Reußner, F., Alex J., Bach M., Schütze M., Muschalla D. (2009): Basin-wide integrated modelling via OpenMI considering multiple urban catchments, Water Science & Technology 60(5), pp. 1241–1248. DOI: 10.2166/wst.2009.471
↑ Großhaus, Martin (2022): QGIS-Schnittstelle für das NA-Modell BlueM (QGIS-Interface for the simulation model BlueM) - Abschlussarbeit zur Erlangung des akademischen Grades Master of Engineering im Studiengang Infrastrukturmanagement der Frankfurt University of Applied Sciences (UAS) in Kooperation mit der Technischen Hochschule Mittelhessen (THM) in Gießen, Februar 2022
↑ Steudtner, Felix (2022): Untersuchung des fluvialen Sedimenttransportes am Beispiel der Rur (NRW) - Verknüpfung der Suspensionsfracht mit simulierten hochaufgelösten Abflussdaten (Investigation of fluvial sediment transport on the example of the Rur River (North Rhine Westphalia) - connecting suspension load with simulated high-resolution discharge data) - Masterarbeit, Geographisches Institut der Rheinisch-Westfälischen Technischen Hochschule Aachen, Januar 2022
↑ Rosskopf, Tobias (2016): Implementierung von ausgewählten Elementen zur Modellierung der Abflussquantität und -qualität urbaner Entwässerungsstrukturen in das Softwarepaket BlueM. Darmstadt, Technische Universität, Master Thesis
↑ Rosskopf, Tobias (2014): Analyseverfahren hydrologischer Zeitreihen und deren Eignung für die Implementation in BlueM.Wave. Darmstadt, Technische Universität, Bachelor Thesis
↑ Kissel, Michael (2014): Blueprint for a direct integration of modules for urban drainage systems into the software package BlueM and its implementation for selected modules. Darmstadt, Technische Universität, Master Thesis
↑ Reußner, Frank (2011): Ganzheitliche integrierte Modellierung wasserwirtschaftlicher Systeme. Darmstadt, Technische Universität, Ph.D. Thesis
↑ Bach, Michael (2011): Integrierte Modellierung für Einzugsgebiete mit komplexer Nutzung. Darmstadt, Technische Universität, Ph.D. Thesis
↑ Heusch, Steffen (2011): Modellprädiktive Abflusssteuerung mit hydrodynamischen Kanalnetzmodellen. Darmstadt, Technische Universität, Ph.D. Thesis
↑ Mobasher, A. (2010): Adaptive Reservoir Operation Strategies under Changing Boundary Conditions. The Case Of Aswan High Dam Reservoir. PhD Thesis.
↑ Muschalla, Dirk (2006): Evolutionäre multikriterielle Optimierung komplexer wasserwirtschaftlicher Systeme. PhD thesis, Vol. 137/2006, Technische Universität Darmstadt, Mitteilungen des Instituts für Wasserbau und Wasserwirtschaft, Fachgebiet für Ingenieurhydrologie und Wasserbewirtschaftung.