BlueM References
Publications
The following publications refer to BlueM:
Presentations
Papers
BlueM - a free software package for integrated river basin management[1] (2009)
Basin-wide integrated modelling via OpenMI considering multiple urban catchments[4] (2009)
Theses
Muschalla (2006): Evolutionäre multikriterielle Optimierung komplexer wasserwirtschaftlicher Systeme[5]
Mobasher (2010): Adaptive Reservoir Operation Strategies under Changing Boundary Conditions. The Case Of Aswan High Dam Reservoir[6]
Projects
BlueM has been used in the following projects:
RIMAX33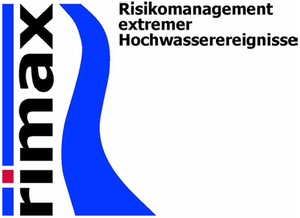 Im Rahmen der BMBF-Fördermaßnahme RIMAX (Risikomanagement extremer Hochwasserereignisse) wurde am ihwb und am Institut für Wasserbau und Technische Hydromechanik der TU Dresden gemeinschaftlich das Projekt "Erhöhung der Bauwerkssicherheit und Reduktion des Hochwasserrisikos im Unterlauf durch optimierte Speicher- und Poldersteuerung unter Berücksichtigung ökologischer Belange" (RIMAX33) bearbeitet.
Hierbei wurde BlueM.Sim für die Niederschlags-Abfluss-Modellierung und die Talsperrensimulation verwendet, BlueM.Opt kam für die Optimierung von Betriebsregeln zum Einsatz.
Immissions-Leitfaden
Goal of the project is the development of a simulation based method for the analysis and planning of immission oriented verification. Building on developments of the Hessian waste water discharge model SMUSI 5.0 the verification is extended to rural catchment and water body elements (Extended waste water discharge model). Because this extended model considers outflow and storage processes of urban system elements in detail, using this model enables a better qualified identification of impacts in the water bodies and allows for comparative planning of measures. In this process there is no need for further data collection compared to the existing guideline.
Literature